Alabama Fake ID
The night is for the strange, wild, and the young. In the Cotton State, young people can gather with their friends and enjoy their youth. But you can't experience all that there is to offer if you're being restricted from nightclubs and bars because you're not 21.
Buy a Scannable fake Alabama ID from IDTop to get past security and reach for the middle of the dance floor.
"State of Alabama" phrase above red and blue lacing – Although it is challenging to spot, above the red and blue lacing at the bottom of the card, you will see tiny red letters that spell out "State of Alabama." They are individual letters without spacing. Having these red letters on your ID will make your card more believable and harder to distinguish from actual IDs.
ALABAMA FAKE ID COMPLETE FEATURES
IDTOP USES PREMIUM ELEMENTS FOR MAKING ALABAMA DRIVER'S LICENSE
A Real ID golden circle and star in the top corner – In the top-right corner sits a golden circle with a cut-out star in its middle. The symbol shows that the ID is a Real ID and was acquired recently. The ink for this detail should be gold, not yellow. These IDs do not expire for a while since they are so recent. The expiration date on our cards will reflect that.
The background of the card is a blue and white picture of the state's capitol building. – Underneath the many layers of text and UV images, the state capitol building sits in the middle of the card with dark trees on its sides. The capitol building is not a photo, but an image made up of hundreds of dots. Its colors are a mixture of blue, gray, and white. Fake IDs that are shoddy only use light blue ink when printing this building, which will make their ID a dead giveaway.
Special Alabama Driver's License Features – There is no header at the top of the card, just red lettering.
Unlike many other state IDs, this ID does not have a header. The polycarbonate card is a cream white color, which does not change at the top. Instead of a header, the word "Alabama" sits above the print of the capitol building in large red letters with black outlining. We make sure to extend the legs of the "As," so they go past the bottom and overlap the trees.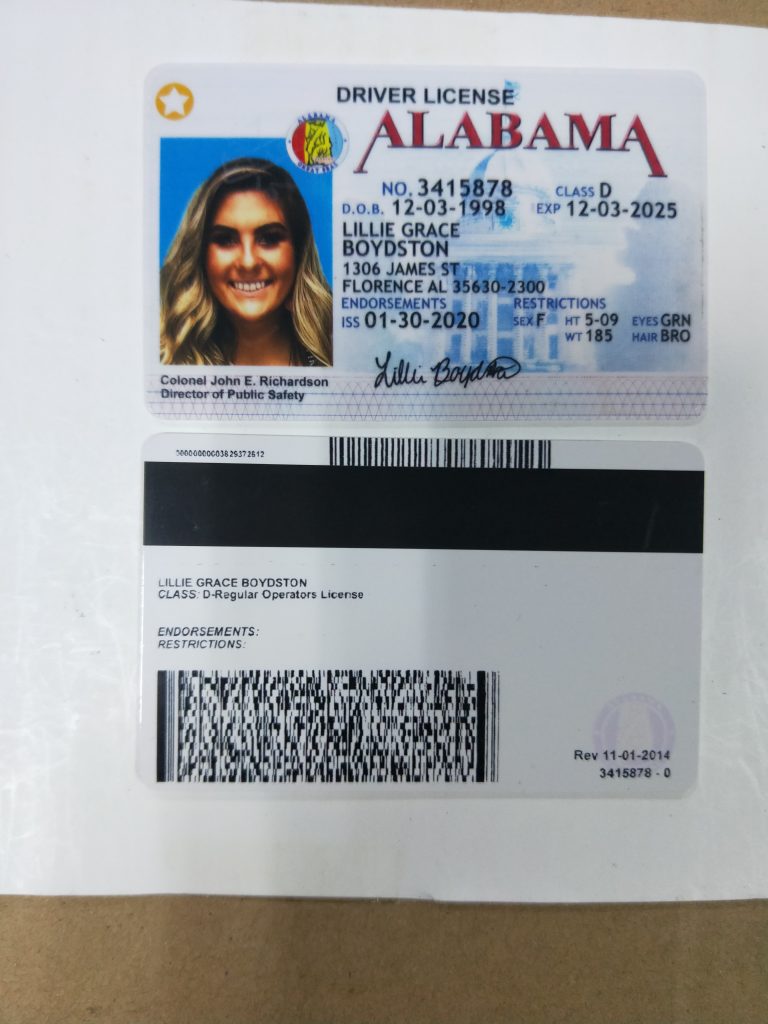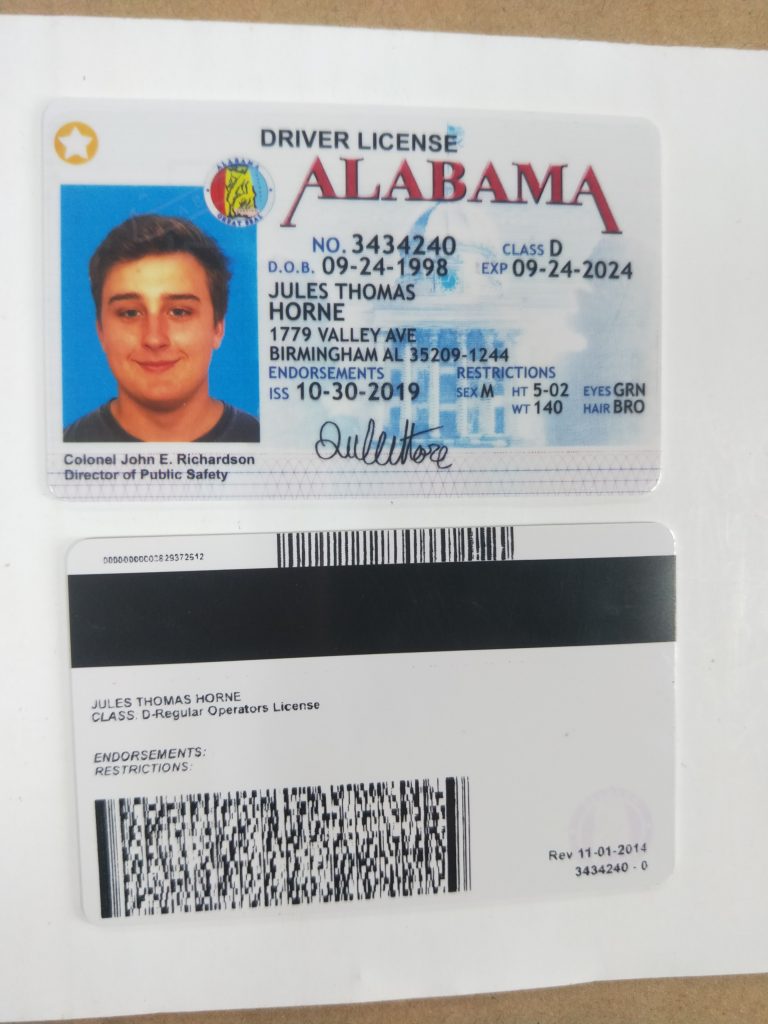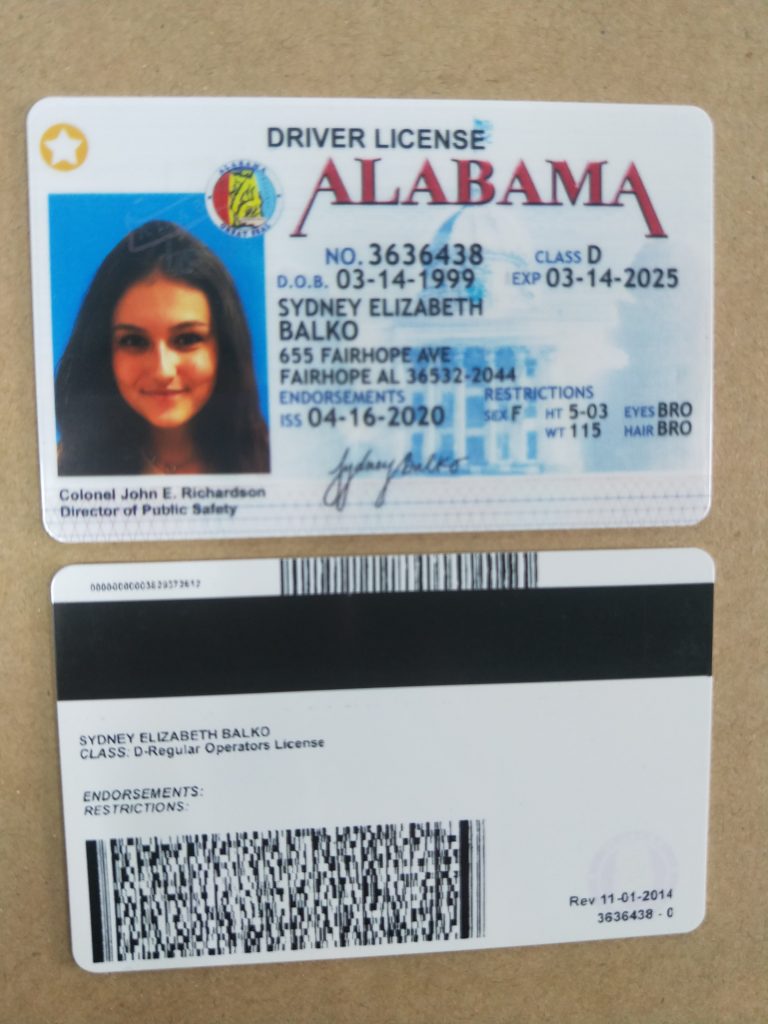 IDTOP ALABAMA SPECIFIC SECURITY GRAPHICS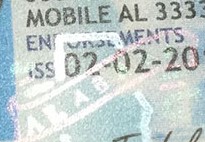 Two state seals in UV ink. – You can see two outlines of Alabama's state seal if you look closely or use a black light. One is to the right of the photo ID, and the other is above it. The image above the ID photo is turned on its side. The other image is standing up straight. These UV images are an extra security feature to make forgeries tougher to create.

We include the red and blue double-layered lacing at the bottom – At the bottom of the ID, there is a red and blue half helix design on the bottom of the card with vertical lines running through it. But if you look closely, there's a faint first design and a much stronger second design on top. We replicate this double design so your card can look professionally made.
Custom signature is layered on top of blue and red lacing at the bottom – When your card is assigned a fake name, we must add a signature next to your photo ID. The signature is a crucial detail because signatures are recorded at the DMV. Without the signature, it will show that you didn't get this card through official channels.
There's just something about a hot night in the middle of the South that will make you want to dance the night away. But you can't experience all that there is to offer if you're being restricted from nightclubs and bars because you're not 21. You must embrace your life now.
The great thing about Alabama nightlife is that parties can happen anywhere. Only the cops arrive when the fun will stop. All you need to start your night is music, drinks, and a bunch of people you'll never meet again.
The red letters are picked up by computers, but not the blue lettering
If you are caught with a fake ID, and you're trying to deny it, red-letter only detection will be a dead giveaway that you are lying. However, this flaw can only be discovered by a computer scanner.
There are bubbles or air pockets underneath the lamination of the ID.
Low-quality ID forgeries sometimes have bubbles under their lamination. State-issued IDs don't develop bubbles because they use official machinery. It is hard to remove an air bubble underneath lamination once it is there. Also, the lamination can be wrinkly or bunch up at the edges.
The magnetic stripe on the back does not scan.
If the software that prints a fake ID's magnetic strip does not work correctly, the ID's details will not come up if the card is scanned. However, a state-issued real ID would not be able to scan either if there are a lot of marks on the magnetic strip. Those scanning IDs should be sure to check the quality of the strip before accusing someone of having a fake ID.
What are Alabama Laws Regarding Fake IDs?
In Alabama, possessing a fake ID is a crime. You can be charged with a Class A misdemeanor if you are caught. The sentence for possessing a fake ID is jail time up to 30 days and a fine of up to $100 if you are a minor.
On your record, it will state that you were arrested for a forged instrument charge. Under this charge, there is no impact on the convicted person's driving status.
However, if caught using a fake ID to purchase alcohol, the sentencing you receive will be under a different code of laws. Along with a forged instrument charge, you will also be charged with attempting to purchase alcohol as a minor. Your driving privileges can be suspended for up to six months.
Additional Ramifications
The state will keep your forged instrument charge on your criminal record for the rest of your life. When employers go to look you up when they are conducting background checks, they will be able to see this charge. You can also be prohibited from holding certain professional licenses and working in certain industries while you live in Alabama. If you want to pursue a restricted career, you will have to move to another state.
It is essential for those looking to buy a fake ID to have a well-made one to avoid the consequences. Police officers say that those with fake IDs are not caught drinking alcohol or purchasing alcohol very often. Instead, they accidentally give their fake ID to a cop instead of their actual ID when they are asked who they are.
My order was part of a group. Easy submission & photoshop editing makes it look easier to use this service.
Alabama IDs are an easy fix for out of state. I ordered one for 100 USD & was delivered in a week. IDTOP has an amazing customer support.